Men From MARS, Women From VENUS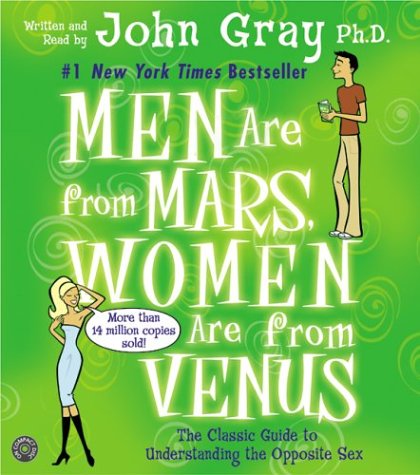 salaams
sure you've heard about this if not read the book by

Dr John Gray

. i personally haven't read this book for real, just snippets of it from the net. ( i don't really buy inspirational/motivational=all that serious crap literature,

BUT

i would splurge me money on Sidney Sheldons, Ahadiat Akashah, or my all time favorite author; Judith McNaught, yes, romance is more of my forte!)
anyways; i'm not here to debate the battle of sexes issues.

moi a lover not a hater :-) call me conservative, but i strongly believe in commitments and relationship

, and inevitably binding it to matrimony; contract for live.

BUT

, the many differences that set each of the gender apart from one another too complex to even comprehend (of which most of the time we fail to understand, that's why there's people left heartbroken, divorced a stayed bachelor for lifetime or even sordid becomes homosexual)
and it's always a wonder to me, why there's so many attractions between the opposite sex. and speshly to men, just give 'em some lil' something-something, show 'em some skin, and they would melts off instantly. funny...and remain a mystery to us all. uuuh where exactly i'm going with this?? haha.
well enuff said, if we aren't too careful, we can easily break the hearts of those we loved in the end of the day. i, for one am scared for that to happen. God Forbids, especially now that i have learned some much from past experiences and breakups-to not repeat the same mistakes again. but having said that though, past experiences can be disturbing and hinders you from making the right choices, and it confounds you...and you'll end up hesitating on the choices you make (or would make) making you feel insecure and afraid. to be scare of failing is still tolerable,

BUT

if you reached to state of giving up hopes, then , that's a first sign of the possibilities for you to die a old spinster!

ANYWHO, i want to be 'dokushin' again really, so that anata-sugei no otoko no hito wa could be called as 'atashii no sugei no koibito ga' :p owh man, i'm the devil!

anyways, for you "martians" perhaps this little something could be useful.


What Men Need to Know: 20 Things Women Find Irresistible
Listen up, guys! Women love it when you:

Own a pair of really nice shoes and actually wear them

Brush the hair out of our eyes

Are able to hold a baby or push a stroller without squirming

Plan an evening out from soup to nuts, from finding a movie to making the dinner reservations

Kiss creatively

Handle our emotions with grace and compassion

Have impassioned, informed opinions about women writers and women's issues

Can distinguish between being courteous and being wimpy

Know how to inscribe a card with a heartfelt, personal message

Demonstrate respect for others by standing up when your mother comes to the table, giving up a seat on the bus for a pregnant woman, asking your dad for his opinion and really listening, etc.

Show genuine, platonic interest in your female friends' lives(soooo very true!, we're easily jealous creatures)

Are playful around dogs, cats and kids

Make the bed in the morning and fold the laundry -- competently

Offer juice, soup and TLC when we're sick

Do the come-from-behind cuddle-hug, just to say hello

Remember insignificant details, like our favorite color or flower, and make use of that knowledge

Are unfailingly polite to all members of the service industries

Offer us caresses and compliments for no particular reason

Understand that we don't always like it slow and gentle in bed

Understand that sometimes we do
Find more sure-fire tips for being irresistible with these Love Lessons>>http://love.ivillage.com